On 01.04.2023 the 1st Auersbacher Discgolf tournament took place.
The tournament and the course
The tournament was a smaller non-PDGA tournament, in which 4×9 holes were played.
The basis of the course was the Auersbacher 8-lane course. However, additional courses were created, courses were made more difficult and thus a great course was made available.
The difficulty can probably be described as follows: On almost all courses, a birdie is possible even without a huge throwing distance, but if you want the birdie too much or make a small mistake, the bogey is quickly passed.
The team of "Die Wies`n Auersbach
The sports club SU Auersbach has really offered a lot as the organizer of the tournament: The course was perfectly prepared and also playable in the tournament layout about a month before the tournament. Already on the training day the players were entertained with cool drinks by the supply team. On the day of the tournament, the kitchen team served soups for lunch, which were included in the entry fee.
All in all, all athletes, but also the numerous spectators were perfectly catered for.
Result of the 1st Auersbacher Discgolf Tournament
In the MPO Division a duel between Stefan Strutzenberger and Martin Josef Nittmann developed quickly. Behind them were Andreas Karner, Adis Isanovic and Marc Lugitsch. In the end, our player Martin Josef Nittmann, with a bogey-free 3rd and 4th round, had the nose in front and decided the MPO Division for himself.
In the FPO Division Discgolf4you player Elisabeth Daffert found her form better and better and played in the 4th 9 lane round, with -4, the 3rd best single round of the tournament. So she won the FPO division and ahead of Birgit Hausmann and Andrea Klima.
At this tournament, the team Discgolf4you celebrated the first double victory in the team history!
You can find all scores on Metrix.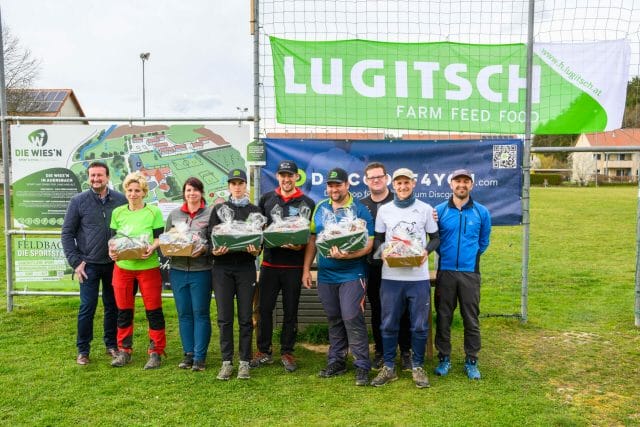 Conclusion on the 1st Auersbacher Discgolf Tournament
Especially when you consider that a year ago there was no course at the course and the organizers just took their first steps in the disc golf world, the tournament was just impressive. From the organization, the course, the layout to the great supply team, everything was perfect.
In the evening after the tournament there were already discussions about the next tournament, improvements and extensions. So we can be curious.
Our Discgolf4you service
Discgolf4you sponsored the tournament and offered the usual pick-up for orders.
Additionally, we have been accompanying the Discgolf project in Auersbach for a long time and are very happy to be part of the great developments.
Finally, we would like to recommend any further tournament in Auersbach and are looking forward to next time!

Your Discgolf4you-Team