Discgolf is one of the most important disc sports in the world, along with the team sport Ultimate Frisbee.
Things to know
Disc Golf is a Frisbee sport game, in which one tries to hit a Discgolf catching basket with as few throws as possible, using special Frisbees made for Discgolf, from a specified drop point (tee). The throwing sport belongs to the golf sports and is usually integrated into existing, public green or sports facilities. Discgolf comes originally from America and has already a wide distribution in the EU in Scandinavia.
Discgolf is played increasingly in the summer months, but also in winter. The outdoor sport is influenced by many external factors such as wind, weather, vegetation, etc.. This makes it a very entertaining sport, where no two rounds are the same. It is often played in public parks and in breathtaking landscapes.
What is particularly appealing is that the sport knows no age limits, as it is not about strength, but mainly about technique. Another reason for the sport's advance is that it can be started without a high initial investment. After a short explanation of technique, massive progress in the game usually occurs very quickly.
There are regional as well as national and international tournaments. The tournaments are mostly played alone but also in teams of two and in larger groups.
Explanation of the sport
The goal of the sport is to hit a disc golf basket over a distance between 50 m and 500 m with as few throws as possible from the tee.
For overcoming the corresponding distance, various different discs are used.
There are putters (Putt & Approach), midranges, fairway drivers and distance drivers. The equipment manufacturer Latitude 64° has put a good picture online.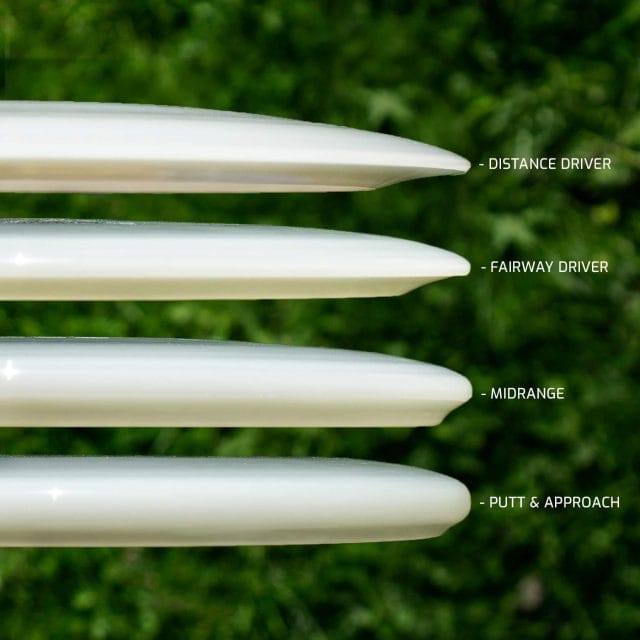 At the top you can see a distance driver. Professionals achieve the longest casting distances with these drivers. This is recognizable by its flat design and sharp edges.
Below is a fairway driver. This one is a bit thicker.
Next are midranges and last are putt & approach discs. These are the thicker representatives with round edges.
The thicker the discs are, the more beginner-friendly they are.
In general, you can't infer throwing distances from the disc. Depending on the throw, model, etc., different trajectories are generated.
You throw from the drop point in the direction of the basket. For the next throw, you stand directly behind the point where the disc landed. A different disc can be used for each throw. The process is repeated until the disc is in the basket.
Further information
If you are further interested in the topic, we recommend our other blogs.
Here you can watch a video report from Schau TV.
Here you can find great articles from Putterfly.
Here you can find a great article from Disc Golf Club Graz.
If you have any questions, please contact us by mail at office@discgolf4you.com.