We are very pleased to invite everyone to the opening of Discgolf4you in Ared-Straße 27/TOP5, 2544 Enzesfeld-Lindabrunn on 24. of March from 2 pm and on 25. of March 2023 from 9 am!
Discgolf4you opens a store
After a long search, we have found a great place in A-2544 Enzesfeld-Lindabrunn near Leobersdorf and will be available to our customers at regular opening hours from 24.03.2023.
What awaits you in the store?
Our complete stock in one place. You can examine every disc in stock, every backpack in stock and everything else you could possibly want in one place. There will also be some "in-store" specials like apparel and disc golf pins. There will also always be shelves with the absolute new items that aren't in the online store yet.
What will be at the opening of Discgolf4you?
At the opening, interested people will receive tips and can play their first holes on a course next to the store. Those who are already infected by the Discgolf fever will have the opportunity for the first time in Austria to examine up to 6,000 different Discgolf discs and much more equipment. In addition, putting games, throwing speed and much more can be tested. Also representatives of suppliers, who are always looking for young talents, will be on site and available for a personal conversation. Visitors can expect various promotions, discounts and raffles.
Catering at the opening
Guests will be served fresh pizzas of their choice from the wood-fired oven of Michl's Pizzawagen and various drinks in keeping with the round flat disc.
How do you find the opening of Discgolf4you?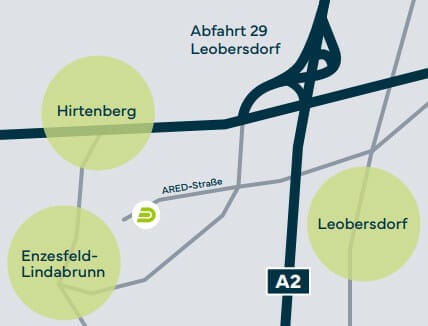 A2 motoway, exit 29 Leobersdorf, straight at the traffic lights, past the shopping park, 1st exit at the roundabout and follow the road for about 1.5 km until you see us on the left side
Click here for Google Maps directions to Discgolf4you.
Electronic invitation
Press release