We are overjoyed to announce that Team Latitude 64° player Leon Sonnleitner will represent Discgolf4you as a brand ambassador.
Leon's career so far
Leon has been playing disc golf for a long time through his father and current coach Stefan Sonnleitner and one could already guess that besides talent, there is above all the will to improve through training.
Junior
After some successes in the junior division, he could record his first MPO victory in 2017. in 2020, he crowned himself junior state champion. From 2021, the now 17-year-old increasingly participated in tournaments in the MPO division, but still secured the title as MJ18 Central European Disc Golf Champion.
In addition, he played a leading role in the winning team of the WFDF 2021 European Team Disc Golf Championships.
Team Discmania
At the end of 2021, there was a big push in his career. We had contact with Leon as part of building our 2022 team, when Leon became a Team Discmania player and for the time being only smaller collaborations were possible.
in 2022 Leon had no less than 10 PDGA wins and 5 more podium finishes.
Special mention should be made of his unique 2nd round in Kope, where Leon threw two aces in one tournament round.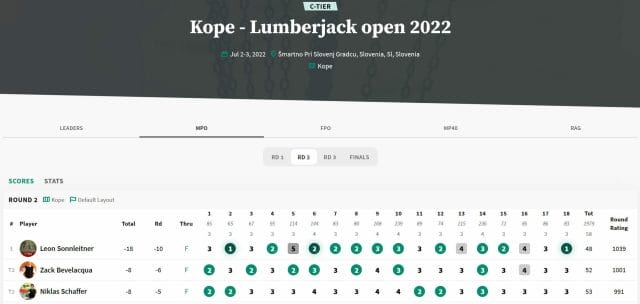 New main sponsor – Latitude 64°
At the beginning of 2023 there was another big turn in Leon's career: he got a fair sponsorship offer and to the surprise of many he changed to Latitude 64°.
This changed the general conditions significantly again, and we could strive for a cooperation.
Why was a cooperation with Leon so important to us?
Leon is without a doubt considered Austria's most promising talent. But that alone did not convince us. The young man from Graz still has a lot ahead of him.
What really convinced us, however, was that he not only has the will and motivation to train every day, but also shares it with his followers on Instagram. We want to support this role model effect.
The collaboration
You can be excited! – There are a lot of things planned. But first of all, what have we actually already done together? – in 2022, Sören from Tap-In Disc Golf produced instructional videos on disc golf with coach Stefan Sonnleitner and explained the exercises using Leon. It's not finalized yet, but it looks good for a continuation.
2023 … Well let's just say this much: We have a lot of things planned.
Now we wish you and us a lot of fun with our new brand ambassador.
Your Discgolf4you Team